It aims to be one of the leading automotive groups and double its turnover to RM2bil

It was a day Looi Kok Loon remembers vividly. May 21, 2010 might just be another date in most people's calendar but for the group managing director of MBM Resources Bhd, that's the point when the company realised business as usual spells trouble.

The cracks in its business model were appearing although some might not see the problem for a company to sit back a collect its dividend cheque from 20% associate Perodua.

The national car company was on the upswing, clawing market share from Proton Holdings Bhd, and in the process returning a more than decent return to the shareholders of MBM.

Revenue for the previous few years was stable between RM1.1bil and RM1.2bil but the first warning sign appeared in during its financial year 2009 when profit dipped to RM66.5mil from RM117.1mil a year earlier. Its steel wheel manufacturing business was losing market share and MBM's own network of selling Perodua cars was not getting more share despite being the single largest chain of dealers.

"We had reached the peak potential for the company without changing our course," says Looi as he spoke to StarBizWeek about the thinking behind the change MBM resources has gone through.

Looking at his files, Looi saw the grim picture of standing pat. He saw the company "running on the spot" and realised it was a losing battle if nothing was done.

"It was not a picture I will like to talk too much about. By gathering everyone together and by visualising, the team realised it was a losing battle. That was a time when we put our heads together and decided what to do."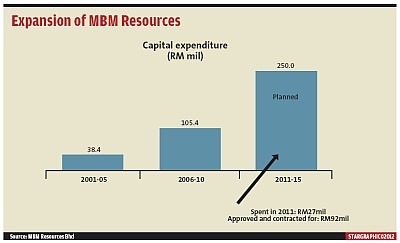 Plan of Action
The brains of MBM coddled together and drew up its plan of action called "3290." It was bold as they wanted the company's revenue to reach RM2bil in three years. Essentially a doubling of what they were doing and it was no easy feat for such a short period of time.
To reach that goal, MBM need to shake things up within the company.
Over the next two years, MBM increased its stake in Federal Auto, it first bought in 2004, from 70% to 100%. Federal Auto was powerful franchise as it has been in the market for over 50 years and Looi knew not much was being done to maximise the value of the company. It could do more than sell a single brand.
"It has fantastic land bank here near Mid Valley and in Johor Baru where we have a big piece of land of 3 acres or 4 acres in a good location in Ipoh and Penang," he says.
"All these are fantastic properties where we utilised only half of it and the rest is left empty."
MBM needed to take full control of Federal Auto and that happened last year. It then secured dealerships for Volkswagen AG and Mitsubishi and parked them under the Federal Auto franchise, turning the old company into a multi-brand distributor.
"We capitalised on the name and location and the new dealerships gave us a big push," he says.
Federal Auto which had a turnover of RM168mil back in 2009 saw revenue surge to almost RM600mil in 2011.
MBM sold off WSA Capital, a manufacturer of interior parts for cars like roof linings and carpets, and replaced it by taking over Hirotako Holdings Bhd, a maker of airbags and seat belts.
Its existing business of selling trucks through Daihatsu was showing signs of exhaustion. It was controlling half the light truck market at that time, selling 5,000 vehicles a year, and had a large share of that market for the past dozen years.
But there was limited upside in pushing its share any further.
"So we went on to get the Hino dealership in 2010. Hino, a strong brand in Japan, does light, medium, heavy duty trucks and buses. We have the network and why not use experience that we have," says Looi.
The limitation of the light truck market was unshackled and he says that the new distributorship agreement opened up the potential of selling additional products using the assets that group had.
Oriental Metal Industries (M) Sdn Bhd (OMI) was making steel wheels. The market for such wheels and hub caps was at one time 65% of all automobiles but the more modern and lighter alloy wheels were chipping away at the old business. Soon, metal wheels found its market share at 50% of the market and falling.
Looi says there was no way for the company to fight the tide despite having Central Motor Wheels of Japan, which was a subsidiary of Toyota. as its partner and decided to utilise the expertise its partner had.
It invested RM103mil for a new alloy wheel production facility in January. Construction is going to start and commissioning of plant should take place at the end of the year.
"It's natural to move from steel wheels to alloy. That's unleashing the potential of the business," says Looi.
The company was making money from its 20% share of Perodua but found that its own network of selling Perodua cars was not gaining ground. DMM Sales Sdn Bhd, which operates 17 dealerships and 12 workshops under Perodua, saw its share of sales stagnate at around 7% to 8% for years and wanted to up that to 10%.
"We looked at Perodua. This is a company that is increasing its share of total industry volume and now we are targeting 10% of a growing pie. We relooked at the way we did our Perodua dealership and reorganised and invested in the business.
Last year, DMM's share of Perodua sales reached 9.5%.
"From 8% to 9.5% in a volume game, that means a very significant numbers for us."
Another angle the group is going for its the tuning market. It has secured the exclusive distributorships of Heico and ABT.
Looi says it's not big business but the margins are higher.
"They are not big numbers but in overseas markets, we analysed that 10% to 15% of buyers don't mind spending extra. This can vary from RM20,000 to RM40,000 in addition to the selling price of the car and up to something like 10% of the price of the car.
He says that its not only about selling a whole experience spectrum of car ownership but also about creating a younger appeal to its customers.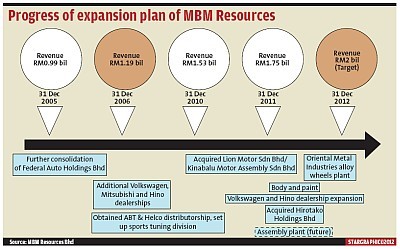 Life after 3290
Assuming the auto market does not tank, MBM feels it should reach its target of RM2bil by the end of its current financial year ending Dec 31, 2012. Last year's revenue was RM1.75bil and what the group was heartened about was that despite sluggish conditions in the last quarter of 2011, its vehicle sales were up 18.8% compared with a 2.25% decline for the industry. For the year, MBM vehicle sales were 1.7% higher compared with a 0.9% decline for the industry.
Newly added dealerships such as VW and Mitsubishi have contributed greatly and plans for 2012 include VW dealerships in Alor Star and Johor Baru.
Combined, MBM thinks those two outlets will sell around 120 cars a month and bring in revenue of RM200mil a year.
"With the investments we put in, we want a much bigger presence for the VW brand. We want to be part of the nationwide expansion for the VW brand," says Looi.
Being part of Vision 3290 but not yet executed was its plan for an assembly plant.
MBM got the licence for establishing a plant when it bought Kinabalu Motor Assembly in 2010. Talks are underway to find the partner in which MBM will assemble vehicles in the country for but talks are still preliminary.
"I felt the group has the appetite to be a complete automotive company. The brands that we pursue, I must offer solutions for them.
"To do that, there must be an ambition to hit certain numbers. It only makes sense for the cars to be assembled in Malaysia.
"That is the reason we secured what we did and based on our business model, this partnership should allow us to do that by having the selling experience and the assets that we have.
"This partnership should allow this brand to be first successful in the domestic market, with the idea of going regional eventually," Looi explains.
Securing a manufacturing licence would also allow MBM to wean its reliance on Perodua and capture a market beyond Malaysia.
"The market is already open. The Malaysian market has a certain size and we should capitalise as barriers come down. People always talk about opening up the market and they get worried. The opening up of our market opens other markets as well. Its about looking outwards," he says.
Having an assembly plant will also give the company an additional aspect, where it is able to tap the offshoots within the company. That will see the assembly business tap on its component business and branches and that will be able to bring more consistent revenue streams to the group.
Expansion expenditure
MBM has for long been seen as a steady dividend churner for its shareholders but they too have been kept in the loop about the need for the company to conserve cash and go for an expansion drive in order to protect the business of the group.
Not all will be happy but Looi says the communication channels have been kept open and the latest announced round of capital raising, which includes bonus shares and free warrants, in a way gives something back to shareholders instead of just taking money from them.
The rights issue planned where MBM aims to raise RM315mil is the first time the company has asked shareholders for money.
"I have tried to manage expectations by making presentations to shareholders where I made it clear that the dividend income cannot sustain if we do not expand our business. If we do not spend, the dividend income cannot be sustained," he says.
The money will be used for acquisitions and to build up the capital base of the company. Looi feels that once fresh injection of cash is made to build up a business, individual operating companies should then on be able to generate revenue and income on their own steam without coming back to the parent for more cash.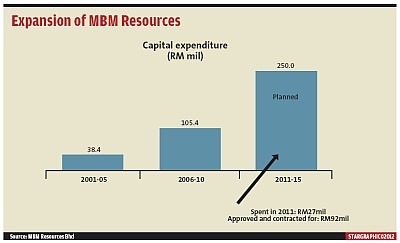 Expansion will also see the group bump up its capital expenditure. From 2001 to 2005, the group spent RM38.4mil in capex and that increased to RM105.4mil between 2006 and 2010. But inline with Vision 3290, MBM has planned capex of RM250mil, of which RM27mil was spent last year.
All those changes also means that MBM Resources is looking at operating cashflows more than receiving dividend incomes like what it relied on heavily in the past.
Based on financial year 2009, associate companies accounted for nearly 56% of earnings but Looi estimates that by end-2012, contributions from associates will fall to 46.3%. Manufacturing will account for 36.2% of earnings and motor trading 17.4%.
"Moving forward, that should be the strategy for us, where we try to invest in businesses which we can consolidate fully. But at the moment, we are not actively looking for acquisitions. In the immediate term, we are trying to digest Hirotako," he says.
The pain of expansion will come from depreciation and extra expenses, but Looi feels those are neccesssary growing pains the company has to endure.
It wants to by 2015, become one of the leading automotive groups. By then, the company will be well underway in its next phase of its growth plan by focusing on profitability after looking to grow revenue. Its plans are ambitious but at the moment, the market is liking what it is seeing.
And Looi will probably feels that when the company's multi-storey new headquarters opens in 2015 where the old Federal Auto showroom along the Federal Highway used to be, MBM would be able to reflect its new identity the way the new building will signify.