MBM Resources Bhd managing director Looi Kok Loon comes across as a learned man who has much knowledge and expertise to share with the company.

An economist by training, Looi was first invited to join the MBM board of directors in 2001. He was made managing director in March this year.

"I came into the company feeling very comfortable because I knew we had very knowledgeable and experienced people here.

"I bring with me a fresh view of things and combine this with the established views, I think we have a good mix of knowledge," he told StarBiz.

Looi, 39, spent close to 10 years of his life in Britain, studying first at Brunel University for his bachelor's degree in government and economics and later, for a master's degree in management at the University of Kent.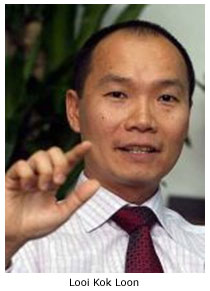 He then worked in various fields, including investment banking, corporate finance and financial consultancy both abroad and in Malaysia, before resuming his current role as head honcho of MBM.

"I believe in continuous learning – the driving factor for me has always been the desire to learn new things," Looi said, adding that curiosity was another trait that he possessed.

These characteristics could well be the reasons why he chose to get involved in the challenging motor vehicle industry.

"Trying to understand the nitty gritty of the auto industry takes a lot of time and there is a lot to learn. It does not matter what level you are at, as there is always something new to discover," he said.

Hands-on Looi makes sure that he attends the monthly meetings of all the group's subsidiaries to ensure that he gets a real "feel" of things around him.

To Looi, having the right attitude and the willingness to adapt to changes are also important factors in determining one's success.

"Markets are changing everyday and we have to accept this and change along with them.

"We have to learn to adapt to changes to remain competitive," he said.

On the personal front, Looi is married with a two-year-old daughter.

According to him, a job that requires constant attention as well as a little daughter leave him little time to indulge in his favourite past time – trekking.

Nevertheless, for Looi it would all be worth it when he achieves what he set out to do.

On his aspirations for MBM, Looi said he would like to see all the group's subsidiaries contributing an equal amount of profits in about five years.

"We will endeavour to grow all of these subsidiaries now and hopefully, in time to come, all can make.