MBM RESOURCES BHD may be considered a proxy to unlisted automotive powerhouse Perusahaan Otomobil Kedua Sdn Bhd (Perodua), but this has not stopped managing director Looi Kok Loon from building up the group's other businesses.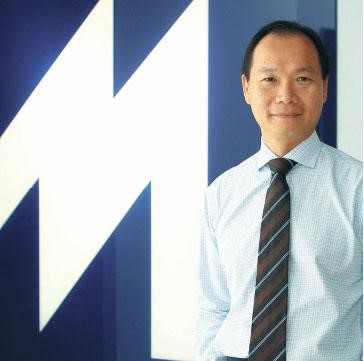 Looi: Our theme has been investing for our future today. This year, remaining capex is about RM40 million. What we have invested in the past three years is more than we have ever invested cumulatively before that.

Perodua, the group's 20% associate, currently contributes 73% of the profit before tax. The remainder comes from manufacturing auto parts and vehicle assembly, distribution and dealership of other brands such as Mitsubishi, Volvo and Volkswagen.

Looi expects its non-Perodua segment to grow further over the next two years on the back of RM230 million in capital expenditure (capex).
"Our theme has been investing for our future today. This year, remaining capex is about RM40 million. What we have invested in the past three years is more than we have ever invested cumulatively before that," Looi told The Edge Financial Daily.

The group's investments have gone into expanding and upgrading its network of dealerships as well as enhancing the capacity of its automotive parts manufacturing. However, the immediate impact of the expansion on the group has been a slowdown in earnings.

"We have been hit by the expansion costs, interest costs and depreciation costs. But there is a time lag before the revenue kicks in. Once it does, you will see our earnings stabilise and begin to pick up," said Looi.

In the area of capacity building, MBM has been particularly focused on high quality safety-related automotive parts. The bulk of the group's investment went into the alloy wheel plant which began production in the middle of the year. It is now exporting wheels, meant for the replacement market, to Germany.

"We are now in the gestation period of our investment. Right now we are undergoing audits by OEMs [original equipment manufacturers]. Once the OEMs are happy we meet their standards, we will begin producing small volumes to ensure stability and assurance of quality. If they are happy, then we will ramp up production," said Looi.

He said there is a shortage of OEM-standard wheels in the market despite the large number of wheel manufacturers.

"We have already invested in all the fixed costs, but haven't realised the earnings yet. Once production picks up we should see an improvement in earnings. We expect the plant to be profitable by 2015," said Looi.

The alloy wheel plant currently has a capacity of 250,000 wheels per year, but will soon be expanded to 500,000 by year-end upon delivery of new machinery. The plant is designed to accommodate a capacity of one million, which will make it the largest Tier-1 wheel manufacturer in Malaysia.

Looi expects the domestic market to absorb 70% of the plant's production while the rest can be exported to European markets, which impose stringent OEM requirements.

Loo said the high quality steel wheel segment has been largely underserved in Malaysia but MBM Resources will fill that space soon with the new plant.

He noted that there is already a shift from the usage of steel to alloy wheels. Steel wheels used to account for 60% of the market, but now only account for 40%.

Besides the alloy wheel plant, Looi also highlights the group's acquisition of seatbelt and airbag manufacturer Hirotako Holdings Bhd two years ago.

"As you can see, we are focused on the automotive components that will have stable and growing demand. Automotive safety requirements are only going to go up and we are positioning ourselves for this," said Looi. 
 
On the trading side, the group continues to book strong sales numbers.

"We are a complete automotive group. When the financing for cars was tightened, slowing down the low-end segment we had our continental makes to support sales. When the possibility of excise duty slowed down the sales of our continental makes, we could rely on Perodua sales," said Looi.

In the second quarter, the group's revenue fell 5.5% to RM580.4 million from the previous year. However, profit rose 26.2% to RM37.2 million, mainly on the back of stronger Perodua sales.

In fact, MBM Resources' vehicle sales growth averaged 7.2% year-on-year (y-o-y) for the first half of this year, outpacing the automotive total industry volume (TIV) growth of 4.1% y-o-y.

This can be attributed mainly to strong Perodua sales this year, which grew by 10.8% y-o-y in the first half. In comparison, Volvo, Volkswagon and Mitsubishi cars, which are carried under the group's wholly owned subsidiary Federal Auto Holdings Bhd, saw sales dip 2.5% in the same period.

Looi also attributes the group's stronger performance to its network of 43 dealerships that makes it the biggest Perodua dealer in the country. The bigger and upgraded dealership network is just one of the areas that MBM Resources has invested in.

Besides a wider reach, most of the group's dealerships are now equipped to handle aftersale throughput, a segment that has been growing at a healthy 17.1% y-o-y in the first half of this year.

"We are beginning to see our aftersale throughputs beginning to build up. When you sell a car, at some point it has to come back for servicing," said Looi.

Aftersale throughput, which includes servicing, body and paint and accessories may not be a big ticket revenue item but it will boost the group's bottom line.

"When you sell a car, a Volvo for example, that is RM180,000 to your top line. Servicing for the same car will probably bring in around RM1,400. So don't expect to see throughputs contribute to the top line in a big way. However, it will be a big boost for margins," said Looi.

The margins for dealerships have been thin, he said, in the single digits, and continue to be under pressure. However, after sale margins are better — in the high teens. Looi says throughputs will also help ease volatility in the group's earnings, compared to relying solely on sales.