KUALA LUMPUR: The newly established Autoparts Networks Alliances Sdn Bhd (ANA) will be expanding its market overseas in two years, president Dr Wan Mohamed WE said.
ANA is the result of a joint-venture agreement between four auto parts manufacturers.
The company will represent the interests of its shareholders and promote their businesses locally and abroad.
The four partners are W&A Ventures Sdn Bhd, Delloyd Industries (M) Sdn Bhd, MBM Resources Bhd subsidiary WSA Capital Corp and Thai Summit Group unit TS Hi-Tech Seat Sdn Bhd.
W&A holds about 35% stake, while the other three companies own "slightly above 21% each", Dr Wan Mohamed said after the signing ceremony yesterday.
Through ANA, the shareholders plan to facilitate linkages in the industry and build competitive viability. The common areas of interest are the design, manufacture and supply of interior and noise vibration and harshness parts and components.
The four companies together manufacture almost 40 different parts and components. Last year, their combined sales exceeded RM350mil in Malaysia and RM3.5bil overseas.
However, Dr Wan Mohamed said the first task would be to pool together resources to optimise capabilities.
"Later, we will look at central procurement, as buying costs can take up to 55% to 70% of total costs, so we can save on wastage too," he added.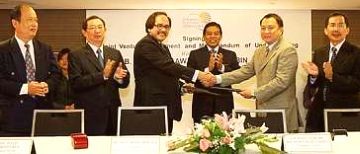 ANA's pilot project will be working on parts for the Proton Iswara replacement model. Dr Wan Mohamed said that had received strong support from Proton.

On whether ANA would acquire other parts vendors, Dr Wan Mohamed said: "We are open to other participants but we are very selective as well."

He said ANA had already had talks with the International Trade and Industry as well as the Finance Ministries on issues pertaining to the industry, such as the necessity of a performance-tracking mechanism for parts vendors. 

ANA also signed yesterday a memorandum of understanding for technical collaboration with three foreign partners – Germany's Engineering and Design AG, US-based Lear Corp and South Korea's LG-CNS. 

The signing was witnessed by parliamentary secretary for the Finance Ministry, Datuk Seri Dr Hilmi Yahaya.

In his speech, Dr Hilmi said the disbursement of the RM500mil Auto Development Fund would be finalised before the end of June.

"If successful, the fund may be increased and treated as a revolving fund to serve as many auto vendors as possible," he said. 

There are an estimated 340 vendors supplying parts and components worth over RM5bil in the country.
About MBMR
MBMR is one of the leading automotive groups in Malaysia, carrying brands such as Perodua, Volvo, Volkswagen, Daihatsu and Hino under their umbrella. The Group is also involved in various automotive component manufacturing and tire assembly.