THE Perodua brand is synonymous with quality, affordability and fun-to-drive cars. Being one of the brand leaders in the local car industry, Perodua, for the first time, is charting its next course with a vision – Fresh Thinking to Move Malaysia.
"Our brand vision means employing the best people, process and technology to build value in our compact cars. It is more than just about economy. It's about creating stylish, roomy cars like the Myvi," Perodua group managing director Datuk Syed Abdull Hafiz Syed Abu Bakar said.
Perodua's success in the years ahead will be determined by its vision and values. As such, it will strive for excellence in providing customers with affordable and happy motoring ownership experience.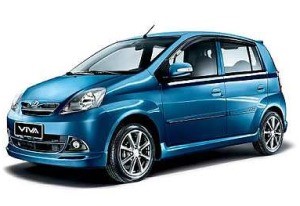 Financial performance
Sales were up an astounding 58% in 2006, with a slightly increased operating profit margin at 5% of revenues. In tandem with a significantly higher turnover, Perodua's market capitalisation is also up 58% over the last 12 months, standing at RM5,084mil.

Stability
As many as 1.3 million Perodua vehicles have been sold since August 1994, when the first compact car, the popular Kancil, was introduced to the Malaysian market. Whilst there is a noticeable downtrend on the sales of compact cars, the Myvi and ViVA models have done Perodua proud in driving sales figures, while charting the current and future growth of the company – the Myvi model has contributed more than 51% of Perodua's revenue in 2006.

At the same time, Perodua is riding on the wave of mass acceptance of its ViVA cars, of which more than 34,896 units have found owners since the model was unveiled on May 10 this year.

Perodua has specially allocated a production capacity of 7,000 units per month for ViVA to meet growing demands. Perodua's bread and butter this year will come mainly from Myvi (approximately 45% of total revenue) and ViVA (about 35% of total revenue).

In 2008, both models are expected to contribute equally to Perodua's income; followed by a higher contribution from ViVA's in 2009, trailed by the birth of another new model.

Perodua's strategy is to continue its effort in offering affordable cars in the Malaysian automotive market, cementing its name as a reliable and advanced compact carmaker that produces high quality cars at reasonable prices.

Leadership and accolades
Sales of Perodua car overtook Proton's in 2006 and the company currently captures 32% of the Malaysian car market (as at September 2007). A key competitor to Proton, Perodua distinguishes itself through its compact cars, designed for customers seeking modern, lifestyle-driven automobiles tagged at highly competitive prices.

Myvi was named recipient of the Frost & Sullivan 2007 ASEAN Automotive Awards for The Best Model of the Year (Malaysia), while Perodua's ViVA received the Car of the Year Autocar Asean Award 2007 (Supermini Category). Similarly, the Kelisa was named The Best Compact car award by JD Powers Asia. Not just that, Myvi received the Supermini Car of the Year Award 2005/2006 by Autocar Asean Magazine.

The consequence of Malaysia's compliance with the World Trade Organisation's anti-protection rules has removed much of the competition in the local car industry, paving a bright future ahead for Perodua to excel in the domestic automobile market.

The company has upped its production capacity to 200,000 units last year, from 150,000 in 2004. Currently, Perodua is expanding its manufacturing capacity to reach 240,000 units by yearend. Ideally, Perodua would like to boost its capacity to as high as 250,000 units to meet the growing needs of Malaysians.

Perodua at a glance
Perodua's principal activities are in the manufacturing, assembly and marketing of passenger and commercial vehicles. The brand has 39 sales branches and 140 dealer sales outlets throughout Malaysia and is supported by 37 service branches and 115 dealer service workshops to cater for its customers' maintenance needs.

Perodua vehicles are sold in 13 other countries and the brand is a fully registered trademark in all the markets it operates in.