Hino Motors (Malaysia) Sdn Bhd targets to sell 2,150 units of its 300 Series light duty trucks next year compared with 1,200 units expected this year due to a new model and the upgrading of existing models.
Its managing director Hiroo Kayanoki said the commercial vehicle maker would officially launch a new four-tonne four-wheel truck under the 300 Series range next month.
It now only offers six-wheelers in the five-tonne and seven-tonne classes under the 300 Series.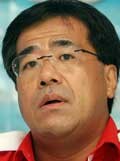 We target to sell 500 units of four-tonne trucks, 1,500 units of five-tonne, and 150 of seven-tonne (next year), he told reporters on Nov 23 at the preview of the new truck as well as the upgraded models.

Asked on the pricing of the new model, Hino Malaysia executive director Steven Lee said it was still under review and it would also require approval from Malaysian Industrial Development Authority.

On the outlook of the vehicle market, he said it would be slightly better next year, hence the highly sales target. The new model and upgraded versions will be available at over 30 Hino dealers nationwide from end-December.

Part of Toyota group of companies, Hino Malaysia has sold about 35,000 units of light and heavy commercial vehicles in the country since 1977.
About MBMR
MBMR is one of the leading automotive groups in Malaysia, carrying brands such as Perodua, Volvo, Volkswagen, Daihatsu and Hino under their umbrella. The Group is also involved in various automotive component manufacturing and tire assembly.