KUALA LUMPUR: Carpets International Malaysia Manufacturing Sdn Bhd (CIM) aims to venture into the manufacturing of parts and components in the automotive sector in China through its partnership with Changzhou Around Globe Carpet Manufacturing Co Ltd (CAG).
CIM, wholly-owned by WSA group of companies, is involved in manufacturing various types of carpets – from machine-tufted, hand-tufted and Axminster to needle punch for automotive floor carpets and carpet mats.
WSA group managing director Dr Wan Mohamed Wan Embong said the move would help the company expand its business.
However, he did not give any specific timeframe as it still had to negotiate with CAG.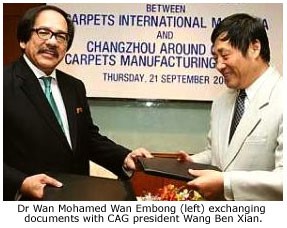 "Further collaboration with CAG may include venturing into the automotive sector. Carpets are used in car interiors so this is one of the areas we can work on as a possible tie-up in the future with our Chinese partner," he told a press conference yesterday after CIM signed a manufacturing-collaboration agreement with CAG.

Wan Mohamed and CAG president Wang Ben Xian signed on behalf of their companies. Â 
Wan Mohamed said the agreement was aimed at improving CIM's range of products and services for the local, regional and global markets.

"We want to remain competitive and relevant in this region. CAG is strong in some carpet ranges as well as in production and delivery to the domestic and regional markets," he said.  
Wan Mohamed added that CIM recognised the strength and competitiveness of CAG.

"We will be able to widen not just our volume but product range in terms of design and make. Our capacity is too small and production cost too high, so it is good to collaborate with CAG," he said.

Currently, exports contribute about 15% of CIM's revenue. Wan Mohamed said he expected this to increase to 50% in two to three years.

Its products are exported to Maldives, Bangladesh, the Philippines, Britain and Singapore, and the company is currently eyeing the Middle East market.

Last year, CIM raked in sales worth between RM10mil and RM12mil, which accounted for up to 30% of WSA's turnover.